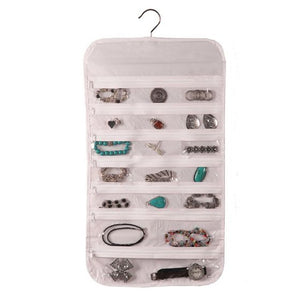 Fashionista Fixes Shop
37 Pocket Clear Vinyl Jewelry Organizer by Richards Homewares
Regular price
$15.00
$0.00
Unit price
per
This organizer is perfect for keeping your Jewelry organized and in a great spot to have handy when you are getting dressed or styling (putting your look together) your outfit so you can be ready when you have to head out the door. 
This piece is great for smaller, more delicate accessories and the zippers help keep you from loosing anything.  If you have a lot of jewelry, grab several of these and organize by style or color, etc.  Get ready like the pros do, with everything standing by and visually available!  This also frees up your vanity counter space. 
THE BASICS Clever jewelry organizer takes up very little closet space as it hangs from a closet rod. 
THE BENEFITS  Clear vinyl front with see-through pockets for easy viewing.
THE USES  37 pockets will keep your jewelry right where you can find it. 
THE BOTTOM LINE  14 Rows of pockets closed with nylon zippers so no contents can fall out. 23.5" x 13"  There are pockets on both sides.  
Note: Contents in Photo NOT included.  For display purposes only.
---
Share this Product
---